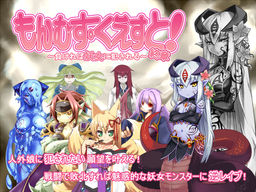 Toro Toro Resistance presents the 3rd act of the massive fantasy RPG adventure!
Epilogue to Monmusu Quest! Origins.
The story of being reverse-molested by sexy inhuman vixens!
Sweet monster girls seduce and pleasure you! Lose and you will be r*ped!
Not one scene of boys violating girls. Masochists rejoice!
You are the hero, a young boy.
Battle sexually with diverse characters in a world of humans and creatures.
All the creatures are sexy girls of some species or another! Find them all!
It's an epic quest. Will your dirty dreams come true?

Game download
Free download
English patch
Related links