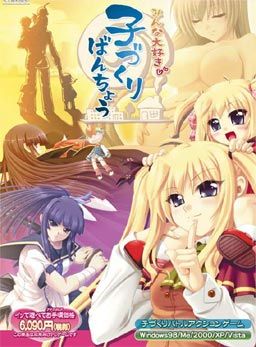 To counter the declining number of childbirths, government decides to activate a plan. All schools across the country will enter contests against each other. The losing school will be shut down and its students will enter the service of the winners. Thus re-igniting the spirits of the lost young generation and hopefully producing healthy couples capable of childbirth again.
The protagonist realizes that this is his chance to realize his dreams and makes a grand plan. First he "acquires" the help of the goddess of fertility, allowing his children to grow up in weeks instead of years. Then he starts leading the fight against other schools and "collecting" girls to grant him superior children on the battles to come…

Gameplay is divided into two modes:
Global mode plays like an adventure game where you talk, date and have sex with your followers. There is a minigame to make babies and also the simulation part is here as well in which you configure your troops and select which school to attack next.
Arcade mode is where you lead the contests and fighting against rival schools. Leading your hero, who doesn't have any special powers at the start and making yourself a team with the mothers and children, who actually grant bonuses to mothers and special powers to you.

Game download
Free download
Related links