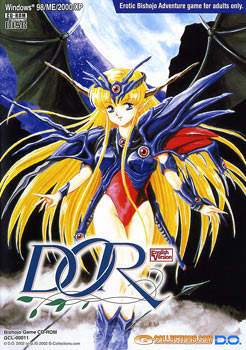 There is a door in front of you… A strange door, which has been created by the Devil. On the other side of it, three different worlds await you. Don't be scared, but don't get caught up in the realms of fantasy! The Devil is waiting to lead you along…
Kanako's Depression
You don't have a girlfriend, and you don't have any money either. You're moping around in your apartment, when a girl suddenly shows up at your door. Her name is Kanako; she's a timid little thing, but wait until you find out what she really is…!
The Telephone Scandal
You want to have a girlfriend. You call a dating service and guess what!? You get a girl and go out on a date. Wait a minute… Is this girl…?
Armored Fighter Gyleban
The evil organization of Gill Grauber tries to dominate the world. One man stands against their nightmarish plans and challanges them. His name is Ryosei Motosu, a selfish bastard… People call him the Armored Fighter Gyleban!

DOR.rar – 81.2 MB
1. install the game
2. copy the nocd patch from "X:\dor_e\loader file" to your DOR directory.
3. make sure your dor cd / daemon image remains in its drive.
4. execute the nocd patch.