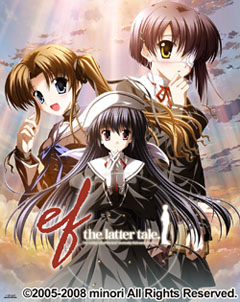 This is the second half and conclusion to minori's "ef – a fairy tale of the two." series featuring avant-garde cinematic techniques and a peaceful, sentimental story which has met critical acclaim.
Renji Asou: A young man who, due to parental circumstances,
has moved overseas repeatedly, and has never experienced any close friendships.
One winter day he met a girl all alone in an uninhabited train station.
She was looking up at the sky, her left eye covered by an eyepatch: Chihiro Shindou.
That was a turning point in fate for Renji, who had always been searching for a "fairy tale" like meeting.
Although they both were shy around strangers, Chihiro mustered her courage and said to Renji:
"Would you be friends with me?"
The two of them become closer through their common pastime of novels.
But they move forward in different directions entirely.
Despite her unique handicap, Chihiro wishes to try and create a story of her own.
Renji, who only ever admired stories, wavers at the sight.
The two of them establish an emotional bond over the course of their guileless everyday lives.
However, the omnipresent existence known as time eventually digs a trench between them.
As Renji suffers for Chihiro's sake, Yuu Himura tells him:
"I probably know the answer to what you want to know."
"But I don't know if it's the right thing to do or not."
"My answer is simply an answer. You have to understand that."
He tells him the reality needed to grant his dream.
The courage needed to stand at the starting line.
And so, the conclusion to their "fairy tale" took a massive turn.

Game download
Free download
Buy the game
Related links