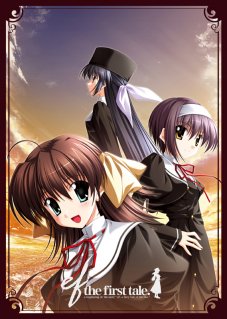 Otowa, a city once razed by a devastating earthquake and the resultant fires.
A beautiful European cityscape now marks the present, as if it were from a fairy tale; almost as if to mask the memories of that calamity…
Prologue: A beginning of the story "ef – a fairy tale of the two."
The night before Christmas.
A man visited a church in Otowa.
He was to fulfill a promise made in the distant past.
A woman greeted him.
The two of them calmly talked about their bygone days.
"Each step of life would be taken together."
"That was what we thought."
"But then…"
"Our hands drifted apart, yet they arrived here through unique paths."
What happened in the time they were separated?
They were there to find out.
The girl said,
"It was during this time, one year ago.
Those doors opened, and he wandered in from the cold. It was a lone young man.
A part of him resembled you… Yes, there was a pining essence within.
That may be why I acted the way I did.
For a short time, I thought I would involve myself in his fairy tale."
Chapter 1: Otowa – Winter
Hiro Hirono is not only a full-time student, but also a professional shoujo manga artist. On the night of Christmas Eve, he happened upon two women.
The first, Yuuko Amamiya, was a mysterious lady who continued to wait for someone at the church.
The other, Miyako Miyamura, was a girl who had her purse stolen and snatched Hiro's bicycle to pursue the culprit.
This winter, Hiro will waver between his artistic dreams and the reality of school.
Upon seeing each other again at Otowa Collegiate, Miyako presented Hiro this question: "It's all too much for one person. Can't you just run away from it all?"
He will be charmed by the free-spirited Miyako, who is bound by nothing.
However, there is yet another girl with her eyes on him: Kei Shindou, whom he thinks of as a sister and a childhood friend.
This driven and confident girl, a starter of the basketball team despite her short stature, will try to show Hiro another path.
These students will coalesce within this idyllic school life.
Their relationships will be taken a step further, yet what has tied them together is about to become hopelessly tangled.
The choice between dreams and reality…
His heart torn between two girls…
Hiro must find a single solution for these two conflicts.
Chapter 2: Otowa – Summer
Half a year after the events of the first chapter, the passage of time brings both new relationships and the birth of a new tale.
The girl who became hurt by the events at the conclusion of winter met a young man named Kyousuke Tsutsumi.
A cameraman in the film club, he was usually rather aloof, but the objective view passing through his lens didn't overlook a fairy tale that hadn't quite seen its finale.
Hiro Hirono had grown since the first chapter, and Yuuko Amamiya was still waiting.
While watching over everyone, she took it upon herself to take action once more.


Game download
Free download
Buy the game
Related links