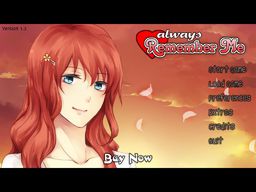 Amy is desperate! Her boyfriend Aaron doesn't remember her anymore after a car accident! Will you be able to make him remember again? Or perhaps it's time to move on. Maybe Amy will fall in love with someone else? It's up to you to decide. Play this life simulation game with dating sim elements and shape Amy's destiny.

Game download
Installation
1. Install the game.
2. Run it once so that main menu appears, then quit.
3. Replace the "persistent" file in C:/Users/WindowsUsername/AppData/Roaming/RenPy/Remember_Me-1.0 (AppData folder is hidden by default. Change the display settings to show hidden files or enter "AppData" directly in folder path) with the one provided in archive.
4. Play the game.