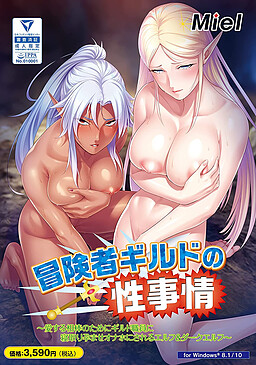 You used to be an adventurer like them, until you took an arrow to the knee. Spending your days issuing quests instead of going on them has its perks, like seeing the two strongest and sexiest members everyday. The only downside is that they always bring their stupid husbands along to spoil your lewd fantasies… Unable to watch these sexy elves flirt with their husband's day in and day out, you get to work looking for an opportunity to get yourself a piece of that elf booty!
Your chance comes when Keira's husband is trying to rank up with the guild and you seize the opportunity by convincing Keira to let you give her a ride on your monster meat to fast track her husband's adventurer evaluation. He'll be delving deep into the dungeon for dozens of days while you use that time to pour all that pent up frustration into her pussy! Keira, exhausted from your insatiable apatite for dark elf pussy, ends up tricking the pure Sissel into sleeping with you to take a literal load off herself. With a lie that "sleeping with the guild clerk will help her discover the 'joy of sex' and help her have a happy marriage", you'll show her the joy of sex alright.
With these two banging elf wives wrapped around your finger, you'll have your work cut out if you want to turn Keira and Sissel from loving wives to mind-broken cock craving sluts! After all, who wants to be an adventurer when getting to fuck two sexy married elves is a way better reward than money or EXP!

Game download
Free download
Screenshots