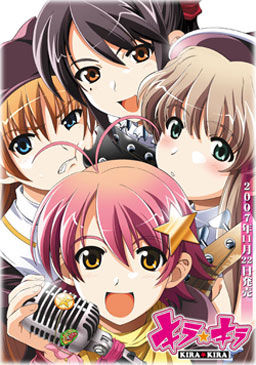 Shikanosuke Maejima is a student at Oubi Academy, a school of a missionary nature. He doesn't visit his club. He doesn't put much effort into his studies. All he really does is show up at his part time job. In short, his life could be better.
All this changes when he meets Kirari Shiino at work. Kirari is a strange girl, and soon Shikanosuke finds himself joining a punk band. This is where the story begins.
The members of the band are Shikanosuke, Kirari, Shikanosuke's childhood friend Chie Isurugi, and a rich yet sickly girl by the name of Sarina Kashiwara. The four of them are members of the Second Literature Club, which has little in the way of active members and which is scheduled to be canceled. The band is their way of saying farewell to their club.
Though ill-prepared for the challenge ahead, the members go through eccentric training, and eventually succeed in rocking Oubi Academy's cultural festival with their debut performance.
And that should have been it. The members should have been satisfied, and they should have returned to their normal school lives.
However, their final performance at a local music theater ends up as a hit on the Internet, and they receive requests from theaters far and wide who want them to come and perform.
What now? Exams are coming up, and the families are opposed to the band.
But none of that matters!
The four of them embark on a trip through Japan, armed with their makeshift musical instruments and aboard a rickety van that could come apart at any moment. It is to be their final project as academy students.


Game download
Free download
Buy game
Related links