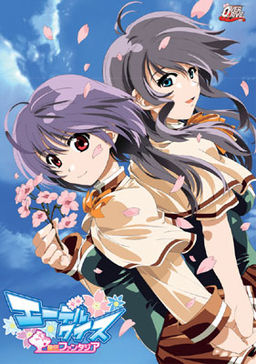 On a desert island in the south there lies an all-girls school where students learn the mysterious art of alchemy. This strange academy, known as Eiden Academy, is the setting of Edelweiss, a tale of laughs and tears shared between the heroines, who lived their lives free of men on this island, and Haruma Kazushi, one of the silly boys who came here to score. This is an all-new game which picks up where Edelweiss ended.
The heroines of this new story are Takase Sakura and Fujisaki Rin, two background characters who dominated the popularity polls and conquered the original heroines. This fan-disk will present an all-new story full of laughs and naughty things.
Sakura's Arc
"If you fall for me, you lose!" The bet is placed between Sakura and Kazushi!
Kazushi and Sakura are good friends. It was certainly more of a friendship than a romantic relationship, but that all changed with one exchange.
"If I got serious, it would be a piece of cake to make Kazushi fall for me."
"Yeah, right! If you think you can, then go ahead and try."
One picked a fight, the other bought it, and so their love game began. With bets riding on who will win, outsiders begin to help and sabotage both sides, getting everyone involved! Who will be the winner in the end? And what will ever happen to their true feelings?!
Rin's Arc
Eiden Island threatens to sink! Will a talking Johnny save the world?
Through their work as class representatives, Kazushi and Rin have grown closer to one another. Just as they began to have feelings for each other, something terrible happens to Kazushi's crotch! His thick Johnny grows a face…and worse, it starts speaking too!!
Kazushi takes off from school to deal with the shock, but Rin soon uncovers the change in his Johnny. She decides to help him and they begin to work towards finding a cure while keeping it out of sight. Although he has to worry about his Johnny, Kazushi begins to enjoy his secret life with Rin. Neither of them ever believed it would develop into a huge incident that shook the peace of Eiden Island…

Game download
Free download
Buy game
Related links