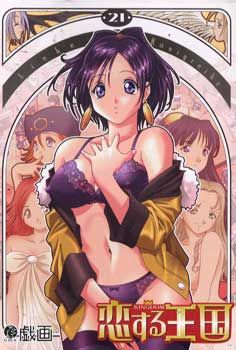 In a mythical age, a young man seeks to become an adult. He leaves his farm home to face the frontiers of the kingdom. He comes to a town where one can seek any apprenticeship freely. This is so one can find his own purpose in life, and perhaps his own lover as well. Jobs include: border guard, educator, various magical schools, fisher, and more. With each job there appears to be a respective woman in the same profession to charm. Will the hero be able to find and woo the girl of his choice in time for the town's festival?

Download Game:
(English patch included)

Download 1.06 Patch:
This patch fixes many crashes in game. Highly recommended.
ko_106.exe – 1.3 MB
Installation
1. Mount the game image and install it.
2. Move files from folder ENGPatch to main game directory, overwriting them.
Kingdom related links:
Kingdom – Walkthrough