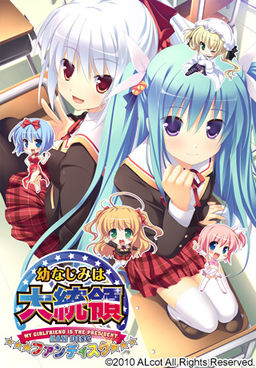 Welcome back to the White House! All your favorite characters are waiting, like President Ohama, Irina Putina, and the adorable spaceship girl Ell! The official fandisc (short sequel) to the popular visual novel "My Girlfriend is the President"!
ELL SIDE:
Remi andQoo come to spend Christmas with Junichiro and Ell. When Junichiro and Ell keep sneaking off at night, poor Remi isn't amused.
"If you have sex that much, your brain will turn to mush. What's that? N- No, Im not jealous or anything! Dont be stupid!"
Meanwhile, Qoo wants to see Ell and Junichiro have kids, so shes been hatching some devious plots to get them to hook up even more. Don't worry, its nothing you wont enjoy! [Insert evil laugh here…]
Just then, a rumor starts spreading about a female ghost thats been appearing in town. The funny thing is, the ghost looks just like Ell…
IRINA SIDE:
Irina Putina returns to Japan after many months, eager for some quality romantic time with Junichiro. Unfortunately its not going to be that simple.
A faction in the Japanese government is plotting to get Junichiro and President Yukino together, so they arrange for Junichiro to live with both Yukino and Irina, allowing both girls to compete for his love… and his hormones.
In one corner is Yukino, childhood friend, good at housework (though terrible at cooking), willing to let Junichiro do anything he wants. In the other, the alluring Irina, with her sexy body and large breasts.
In the mood for some "double maid play" with manage-a-trois? The love battle is about to begin!
This is the official "fan disc" (short sequel) to My Girlfriend is the President, which is approximately half the size of the original game, with two complete routes and many sex scenes to explore and is uncensored.

Game download
Free download
Related links