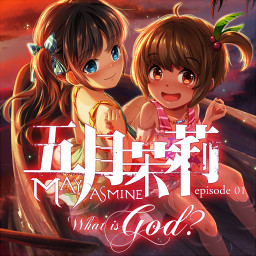 He Yu-Cheng received his friend Wan Zi-Jin's invitation, and set on to leave the familiar Taiwan to start a new life with Wan's daughter Wan Yu-Qing in Indonesia, where he starts working as an accountant. He meets many interesting people and through their interactions, their lives are shaped.
Wan Yu-Qing questions where her home truly is and her self identity.
Miao Pin-Hong, a soon-to-be mother and a Chinese teacher, tries to share her love with future generation.
Cocoa, a little girl from the local Indonesian family, has a world peace as her fondest wish.
However, the world is not a peaceful place.
Fire. The smell of burning metal and rubber.
"Peace", people speak and engage in mindless violence.
"Aku mencintaimu", they say, but things like race, wealth and culture inspire their hatred.
"Quid est nomen eius?", they ask in the name of faith.
There may, or may not be a reply.
MayJasmine is taking place during Indonesia's 1998 riot, where the riots were triggered by economic problems, leading to violence towards ethnic Chinese, resulting in a lot of deaths, both Indonesian and Chinese. These riots led to the resignation of the second president Suharto and the independence of East Timor.

Game download
Free download
Screenshots