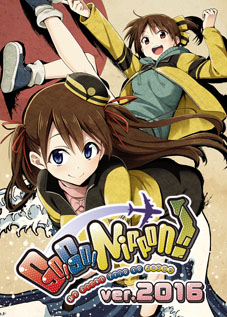 2016 (Re-)Re-release. Includes all content from original release and 2015 version.
Our protagonist is a fan of Japanese anime and games. He makes friends with some Japanese people on the internet, and decides to stay with them for a week.
Thrilled by the prospect of a week's sightseeing in Japan, he touches down in the airport, only to discover that his new friends — "Makoto" and "Akira" — are actually a pair of attractive young sisters!
After their introductions, the protagonist arrives at their house to learn that no one else is there.
"Um… where are your parents?"
"Our parents were called out of town for two weeks on urgent business."
(In other words, the only ones in the house will be Makoto, Akira, and I?)
(How is that going to work!?)
The local culture has some surprises in store on your first night there, but you'll soon head out on the town! Enjoy the date-like atmosphere as Makoto and Akira take you on a tour of famous sites. You'll marvel at the beauty and history of Japanese culture, fill up on local delicacies, and even share some thrilling moments with the girls!
The week you spend in Japan will certainly be memorable!