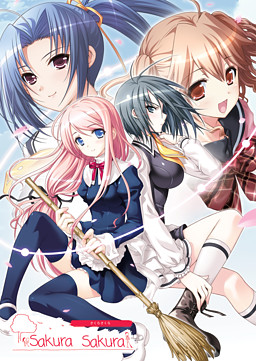 The Dorm Guardian vs. The School Guardian
Inaba Tooru has always dreamed of living a co-ed life. That's why, when he finally managed to transfer into the renowned Rintoku Academy, he immediately fell head over heels for two Sakuras!
Sakura Nanako's classes are strict, but at home, she turns into an overbearing mother.
Kirishima Sakura may seem cold and unfriendly, but she is always ready to lend a helping hand as the class representative.
These two girls are outwardly indifferent to Tooru, but put the three of them together and sparks begin to fly.
In the sakura-colored season of spring, two fussy Sakuras have been caught in a light-hearted love triangle.
The Internet Friend vs. The Childhood Friend
"You know how romance games always give the main character that best friend who tells him about the girls? I want to be that guy."
Fuse Naoki, the self-proclaimed best friend, is always ready to tease Tooru about his situation with the two Sakuras.
But, unbeknownst to him, he is one side of yet another light-hearted love triangle.
Nitta Akira has been Naoki's friend since before they could read and write, and is now finally living under the same (dorm) roof as him.
Tachibana Kurumi used to be Naoki's MMO raiding partner, but they were separated before she ever got a chance to meet him in real life or tell him how she felt.
"I understand him better than anyone else."
Akira and Kurumi have Naoki stumped for the first time in his life. And so, Tooru finally gets a chance to see things from the other side.
The curtains rise on this desolate showdown for love.
Game download
Free download
Screenshots