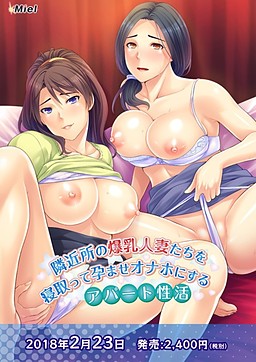 Banging and corrupting bursting busty married women into 'neighboring fapholes'!
These sultry wives get pleased even while having irresponsible adultery sex play!
You, living in an apartment, were titillated by a neighboring wife Maria
so that your sexual desire burst out! It all resulted in pushing her down into sex.
First you thought it would cause serious something, but this mature wife Maria
got totally into your robust dick! Soon after you got laid by another wife Sumire,
who always treats you kindly, making her entirely captivated by your dick too!
Opposed to what come out of their mouths, now these mature wives are
pretty much addicted to your robustness, becoming your own fapholes!
Your apartment life with free banging with two wives, or fapholes, begins here!
Two mature wives of your dream become your fapholes!
An amorous wife Maria is cheerful and seductive. A housewife Sumire has calm
and soothing personality. These two obey, pledge loyalty to and service your dick!
It's free banging spree with your own fapholes!
These two, totally infatuated with your fierce mating sex and various sadistic plays,
writhe in pleasure with their sultry and salacious faces! Karaoke H in sailor school
uniform, banging exhibition in erotically modified school swimsuit, cowgirl sex and
breast slapping while talking to husband over the phone, fierce thrusting from behind
with spanking, filming bareback sex and pervert dance with panties on head…
Enjoy too erotic and sadistic plays in a totally lubricious mood!
Obeying & pledging loyalty to dick!
Take charge over these mature females with very robust dick to make them
your sex slaves! Their loyalties to your dick satisfy your desire to dominate!
Game download
Free download
Screenshots