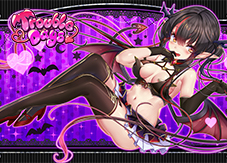 "The creatures of the demon world known as "succubus" use a male's sexual energy, his "technoforce" as their nourishment.
One day, one such succubus known as "Lovelia" appears suddenly before the main character to steal the power of his lust, known as his "technoforce".
Considered to be one of the greatest beauties in 1000 years, Lovelia may look bewitching, but the truth is that this is her first ever work assignment and she is very naive when it comes to men.
Lovelia tries again and again to steal away his technoforce, but her innocence gets in the way of any real progress.
Unless Lovelia succeeds in harvesting the technoforce of the one she has chosen to possess, she can't return home to the demon world, nor can she possess another man. …Lovelia finds herself stuck living together with the main character."
"Can Lovelia successfully harvest technoforce?!
Set in Akihabara, the awkwardly funny and slightly naughty new life of one naive succubus begins!"
Game download
Free download
Buy the game
Screenshots