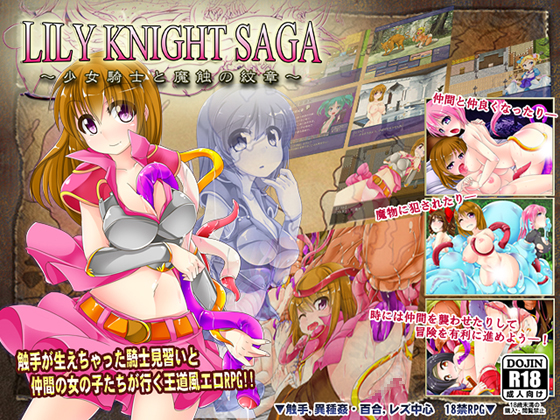 Lily, a knightess in the royal guard, was ordered by the queen to clear the nearby forest of demons.
She came into contact with a mysterious crystal that grew tentacles from her own body—
Compelled by her own transformation and the mystery of the crystal, Lily and her trusted companions set off on a series of adventures!
Lily Knight Saga is an epic RPG told in 8 chapters + extra.
Add party members and discover titillating X-rated scenes
while enjoying the journey and Lily's story.
Monsters and townfolk aren't the only people you can hook up with.
Lily can enjoy "night visits" with party members and take on dubious sex jobs,
even pimp out her girls to make extra money.
You can beat the game in a "pure run" without any change to your H meter or seeing any sex scenes.
In this case, you also won't be able to recruit certain characters.
The adventure may become quite difficult. Do you have what it takes?
Game download
Free download
Screenshots
Related links