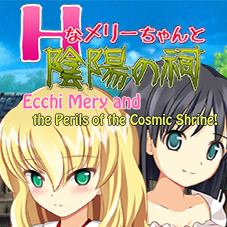 This is a fun little game where our hero, Mery, and her maid, Maria go out and try to discover a valuable artifact in Cipangu (the old Portuguese name for Japan). I felt a strong relation to our heroines here when I came to Japan for the first time myself!
But why are they going? Mery is about to graduate from her magic academy and needs to prove to her worth! And her trusty SUPER MAID Mary isn't going to let her go alone!
In Hinaya village, they find an old ruined shrine and explore its depths together! However, it's hard for our two girls to get through their quest without running into some troubles along the way! Many dangerous men and monsters lay deep in the shrine, and they're going to need and an ample amount of battle prowess and sexual prowess in order to survive!