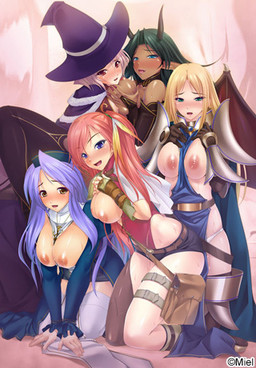 Can I be with such cute and powerful bishoujos? Can I handle it!?
Eyes a'spin with gapelust, hips a'clap anytime I please! That's fantasy!
I pursue the impossible dream: to be master of the Harem Guild!
"Only handsome guys can be monster tamers."
The other Guild members laughed as they rejected him.
Wretched and ugly, he couldn't even form a party.
No one looked past the aura of failure that shrouded him
to appreciate his extraordinarily large cock.
Except for one. A demon.
The demon saw in the rejected ugly hero a way to dismantle the Guild of Beauties,
the troublesome heroines who'd been slaying demons since time immemorial.
For the ugly man, it was the chance to teach a lesson to those who'd made him feel shame—
The chance to fulfill his dream of questing—
Yes! He shall wield his demonic dick!
Massive cockventure! Ill-reputed sperm will stain the righteous!
One man's epic inseminating fantasy begins!!