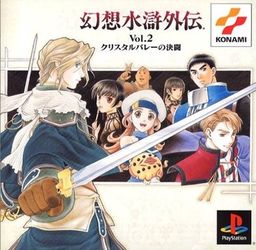 After the completion of the Dunan Unification Wars (the events of Suikoden II), Nash intends to return to the capital of Holy Harmonia, the Crystal Valley. However, his travels involve more adventure than he anticipates.
His journey involves traveling through the Grasslands, where one village happens to be celebrating the legend of the Flame Champion and the Fire Bringers who stopped the Harmonians from invading some sixty year ago; an unfortunate stop over in Caleria, the base of operations for mercenaries of Southern Harmonian Border Defence Force; helping stop a wild dragon from terrorizing a village before finally reaching his destination.
Note: This is English-prepatched .iso image for Playstation game. You need emulator, like ePSXe, to play it on PC.