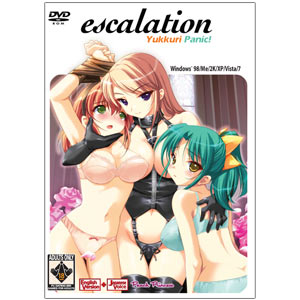 A great new game for fans of erotic visual novels from Japan, this is an all yuri (lesbian) game that eroge fans will love. It's really two games in one: a complete multi-scenario ADV (visual novel) game with different paths to explore, plus a great arcade-style "uncover-the-picture" game in the tradition
The Visual Novel
The visual novel is a great game in which you must guide the main character Rie as she navigates the dark world of lesbian possession. Rie Komatsuzaki has just transferred to the prestigious St. Yale Academy, a Catholic school for girls, and she's sad and confused. She had fallen in love with her home tutor then discovered that her stepmother was involved in an illicit relationship with him.
Now at her new school, she finds herself alone and confused. On a whim, she enters the school chapel, where she encounters Naomi and Midori making love. She's immediately taken aback — "What are they doing? Girls aren't supposed to touch each other like that!" And yet, a strange warmth fills Rie, and her panties grow wet. Before she knows what's happening, she's the target of the two girls who seek to make her their plaything for sex. Several fascinating endings to explore!
"Yukkuri Panic" Arcade Game
Then get ready for a great action game in the tradition of the classic "Gal's Panic" erotic arcade games. Combining an original story with 21 levels of gorgeous erotic art that you unlock as you play, it's similar to the classic Qix arcade games. Your ship travels along the outside edge of the picture, and you can move forward and draw sections of the picture by holding the space bar. Beware of the many enemies that move around the screen, including the Boss, which shoots out missiles and fireballs at you. If something touches the line you're drawing, sparks will move towards you, destroying your ship if it touches you before you finish claiming a section of screen. The gameplay is fast and furious and erotic!

Game download
Free download
Related links