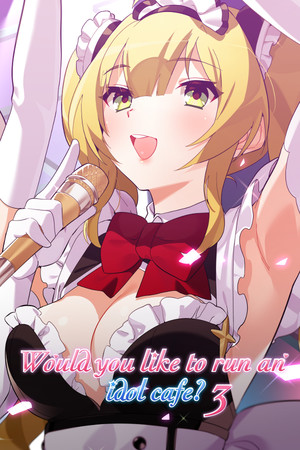 In this Visual Novel Yokoyama Naoya was an average guy who, after putting his checkered past behind him, began to work at a small café by the beach. With his two cute co-workers, the serious Mayuki and the enigmatic Kuu, Naoya led a relaxing life – until he learns that the café's revenue is dwindling, and it's on the brink of closure.
Not knowing what else to do, Naoya consults his childhood friend, Ichigo, who suggests that she form an idol group with Mayuki and Kuu to help promote The Seaside Café.
While initially skeptical, Mayuki and Kuu consent to this plan, and so form their own amateur idol group: Sweet Shoreline.
Despite being a newbie group, Sweet Shoreline's first music video is a massive viral success, which nets them a lot of online attention. In the wake of their newfound fame, Sweet Shoreline are invited to a large competition in Tokyo, which will pit them against various upcoming idol groups, to see who will come out on top.
Ichigo is, of course, thrilled by this idea, though the shy, self-conscious Mayuki is less sure. Tensions run rife among the girls of Sweet Shoreline: tensions that are further exacerbated once it's discovered their rival idol group, Honey Devil, have also been offered an invitation to take part on this competition.
Will the girls be able to snatch an unexpected victory, despite being underdogs, or will Honey Devil destroy them? The fate of Sweet Shoreline, and of The Seaside Café, rests, once again, upon Naoya's shoulders.