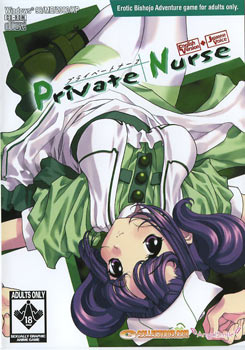 The strangely-dressed girl on Hiroki Rikido's doorstep she smiles at him innocently. "I'm a private nurse, and I am going to cure you!"
Hiroki has always suffered from a disease which weakens him. He does no more than go to school and come home, accompanied by his childhood friend, Ayano, who loves to dote over him. He lives alone, quietly suffering and enduring his diseasae. But all this changes with the arrival of Maria, his very own private nurse. Hired by Hiroki's mother, nurse Maria forces her way into Hiroki's sheltered existence, promising to cure him for good. Unsure of what to make of this beautiful new intruder, Ayano watches with conflicting emotions from the sidelines.
Just how is this strange nurse going to cure him? And in only a month's time? The adventure begins….

Game download
Free download
Related links