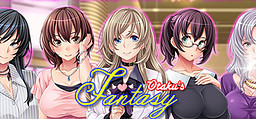 I was a deadbeat.
After times and times of getting fire, I worked as a cleanup crew, just trying to make a living. When I got nothing to do, I can only play with myself. Later a AI company took me in, I thought the job will just be slightly better than the last one. i just want a new life, a better one.
But it's like a different world! Office ladies from powerful companies, celebrities, and rich cugars. This is all too much for an otaku like me.
One day, a cute actress called my name and said 'Hey are you a boy or a girl?' I was so angry my vains were about to pop. So I just whipped it out. The next day everyone call me ladyboy.
From then on, a new world had opened the door for me. All kinds of women threw themselves at me, and for all kinds of strange reasons. No matter it is a mixed-race lady with huge buttocks, a well-known news anchor secretly wants to be whipped, or a hungry cugar that almost eats me up, they all wants to know what it's like to be with me. But there's no stopping this!
This is otaku's dream world, if you want 'em, just get 'em!
Game download
Related links