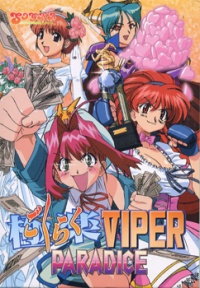 This game pits four of the most famous and lovely girls in the Viper universe against each other in a fully animated scrolling game!
Featuring the four lovely characters of Asuka (Viper CTR), Carrera (Viper GTS), Mika (Viper M16) and Akira (Viper M1), you choose which character you want to play as. Up to four girls can play against each other, and each player can be controlled either by human players or the computer. In the case of playing with multiple humans, you can choose different control methods for each player (mouse or keyboard).
In Viper Paradise, the four lovely players roll dice and move across a complex map, picking up various cards which give benefits or take them away as they go. The goal is to assemble a complete set of "movie cards" which allow you to watch all the hentai movies in the game.
Danger lurks at every turn. Will you gain or lose money as a result of the various events that occur? How will your opponents get in the way of your completing the perfect Viper movie collection? By calling a sudden dice duel, or perhaps using a hidden card to steal movie cards from you?