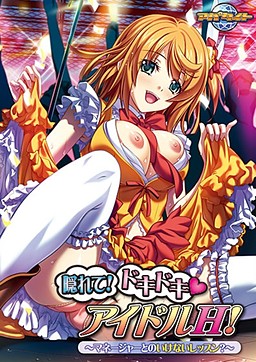 … Several months ago.
I was a total failure in life.
No job, no place to live, nothing.
Not too long ago, I lost every asset I had.
Now what should I do?
"You there. You're not doing very well, are you?"
When I turn around to see who's speaking to me, I see a man in his fifties.
Apparently, he's the president of a production company, and he's taken a liking to me.
He tells me he'd like to hire me as a manager at his agency.
That's how I came to meet the uber-popular idol "Akane Hiiragi."
Once I started working as her manager, my life got a lot busier, but a lot more fulfilling too.
But those peaceful days came to a sudden end after a certain on-location shoot…
Akane is acting a little odd today.
Her cheeks are bright red, and her voice sounds a little hollow.
As the staff start packing up, I wait for Akane to finish changing outside the clothing change tent.
Then, before I can even react, a woman's hand reaches for me and pulls me inside!
And in the tent, I find…
I've… been waiting so long for this!
She's blushing, wearing nothing but her underwear… and ready to receive me.