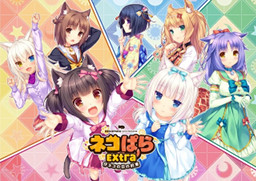 After being taken in by Kashou and his little sister, Shigure, the young kittens, Chocola and Vanilla find it difficult to fit in. Despite the warm welcome the other Minaduki catgirls give to them, they act with trepidation as they adjust to the pace of the family.
As they slowly interact with their fellow sister catgirls, Chocola and Vanilla begin to open up more and it's here we see Kashou's kindness towards them that builds up their feelings towards him.
Nekopara Extra is an extra episode in the series that was part of a stretch goal from the Nekopara OVA crowdfunding campaign. The lovable catgirls, Chocola and Vanilla, are back and this time the story focuses on their first arrival at the Minazuki household before the events of Nekopara Vol. 1.