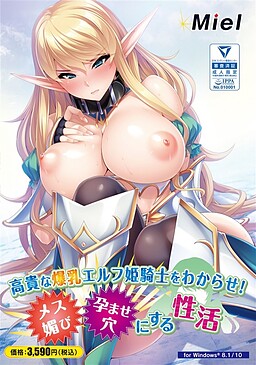 Right now, in a dimension an unknowable distance away, an Elven Princess, Farina, faces off against a Dark Elf, Riza, in front of the sacred tree that all elves draw their strength from. Riza has an ace up her sleeve; she sends Farina to a world without a sacred tree to draw power from. Our world! Luckily for Farina, she ends up in the bedroom of the greatest power source in all the multiverses; our horny elf-loving protagonist!
Fuck that arrogant attitude right out of Farina as you get her to use her invisible magic to fuck her in public, have her cosplay as a maid or a bunny girl to service you, and fuck her like the cum hungry elven pig she is with a nose hook + collar combo! She'll love whatever you can dish out baby!
Let's not forget about Riza, who assumed that without the sacred tree to give the Princess strength, could hunt Farina down and finish her off. Little did she know what would be waiting for her when she came through the portal was our elf-addicted protagonist and a turbo cum-charged Farina to put Riza in her place as Elf Sex Pet #2.
Game download
Free download
Screenshots
Related links