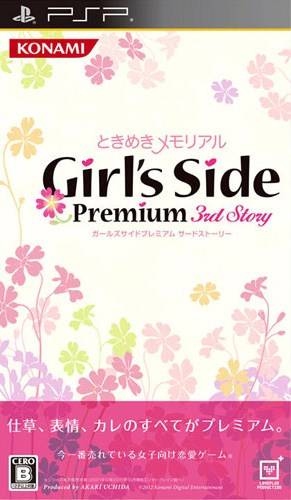 The game takes place at Habataki High School seven years after Tokimeki Girl's Side 1. There are a total of six new bachelors plus three secret characters.
TMGS 3 implements a totally new system; the Love Triangle. Instead of rival girls liking your man, all six bachelors are paired with another, making it so that you can 'date' two of them at a time. TMGS 3 also introduces a revamped clothing system with a few new clothing styles and the ability to 'level up' your fashion.
The PSP release features dozens of improvements to make your experience even more powerful. Choose how to approach your boyfriend, then watch his expression shift in subtle and fascinating ways as he responds to your actions. You can also hold your PSP vertically (portrait mode) to get an even closer look at your chosen beau's handsome face. All this, plus new CGs, characters, and events, for the ultimate romantic simulation!

Game download
Free download