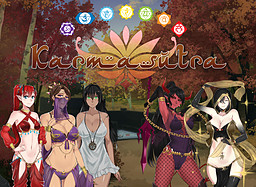 Karmasutra takes place in the world of Tattva – a mysterious, heavenly realm that acts as the final challenge for sinners who seek the call of Nirvana. Once home to the ancient civilizations of the past, the fleeting eras of these fallen kingdoms have come and gone; in the wake of this passing, the realm has become an afterlife, a final challenge for restless wandering souls.
As our protagonist awakes in this strange land, he's quickly introduced to concept of Samsara; the journey across Tattva that all "Wanderers" must undergo to cleanse themselves of sin. Confused by this sudden prospect, our Wanderer also learns that the call of Nirvana is not absolute; in fact, there are some Wanderers that choose to sacrifice the call of Nirvana in exchange for the infinite sexual & material pleasures – and dangers – that this mysterious afterlife seems to offer.
In this foreign realm however, Wanderers are not the only residents. From the sacred gurus who guide Wanderers and the demonic Asurian tricksters to the monstrous manifestations of sin and the Gods themselves, Tattva is never truly what it seems. But in this mysterious world, where both the path of Sin and the path Merit seem to lead to both rewards and consequences, which path is truly correct? And more importantly, which path will you, the Wanderer, choose?


Game download
Free download
Related links