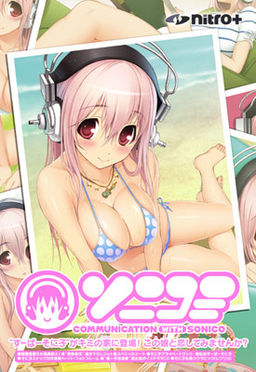 SoniComi is based on Sonico, an overly busty amateur idol and mascot of Nitroplus, and features players as her cameraman. Naturally as a cameraman, you will both film and court her. The game flow will consist of two phases: the adventure and action phase.
The adventure phase deals mainly with your job as a cameraman, giving you the task of planning her photo shoots to the client's requests. Gravure fans will be happy to know that they actually get to take pictures as Sonico poses around the set.
The action phase is similar to what players are used to in visual novel games – building a relationship with Sonico outside of work. These get broken up into scenes that involve physical contact, eye contact, and talking. Talking seems to be pretty basic, , but physical contact and eye contact seem to be the more interesting aspects. These include holding her hands at the right time, eliciting either embarrassment or a romantic moment. Likewise, eye contact during a conversation will be important. This means that either players will be rewarded for paying attention to Sonico or get a scolding for letting their eyes wander.

Game download
Free download
Buy the game