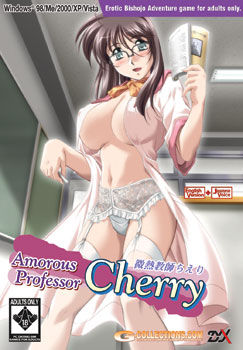 I'm Kouta Koikawa, and I'm having a problem with my studies. It's not that my classmates' ruckus bothers me, I sit at the front of the room to avoid their antics. The real problem is my social studies professor, Chieri Hase. From the day she started teaching here I haven't been able to keep my eyes off her! She's a rookie teacher, but I'm captivated by every movement of her beautiful body. I can't work up the nerve to confess my feelings – I'm her student, after all, and I'm sure she wouldn't find this sort of forbidden love to be proper… until one day when fate brings us together in an encounter that changes our lives forever.


Installation:
1. Extract the archive(s)
2. Burn or mount AmorousProfessorCherry.bin ( by default DAEMON Tools doesn't recognize .bin as cd image format – you have to select "All files (*.*)" when browsing for image )
3. Run CHERRY_SETUP.exe and install the game
4. Play the game.
"Amorous Professor Cherry" related links: